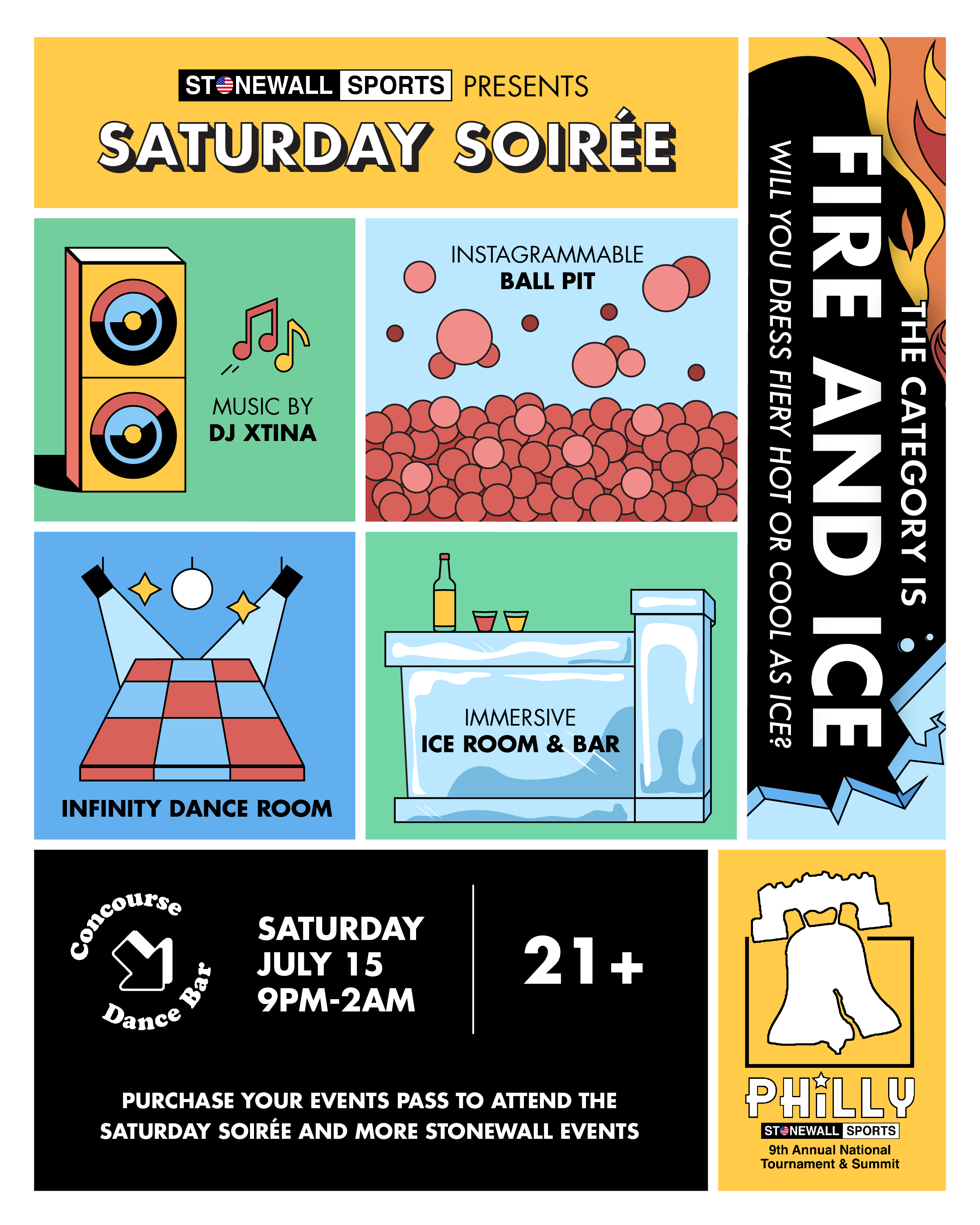 On Saturday July 15, Stonewall Sports' Saturday Night Soiree will be hosted at Concourse Dance Bar, known for its Instagram-famous ball pit. This massive two-story nightclub has an eclectic, retro flair with several "zones" for attendees to explore, including a dance floor, the famous ice bar, a relaxing lounge, a psychedelic "infinity" dance room, a VIP mezzanine, and a photobooth to capture tournament memories with friends, new and old.
Beloved Philly-local DJ Xtina will be spinning all night at the event, expected to draw in over one-thousand attendees from the weekend's festivities. Full-service bars will be available throughout the venue, featuring specialty cocktails available from Tito's (the Official Vodka of Stonewall Sports) and Cointreau. Non-alcoholic drink options will also be available. There will be no food options provided.
This event is open to all registered tournament participants including players and event pass holders (formerly known as Friends of Stonewall). Doors will open at 9:00 pm and close at 2:00 am.
Please note: Concourse Dance Bar has a maximum capacity of 1,500 people. Once the venue reaches maximum capacity, there will be a queue for entry, and attendees will be admitted on a one-out, one-in basis. Unfortunately, tournament registration, including the purchase of an events pass (formerly known as a Friends of Stonewall pass), does not guarantee admittance to Concourse for the Saturday Night Soiree. As such, tournament attendees and events pass holders are encouraged to arrive early to the venue.
Admittance to all tournament events will be strictly monitored by security and staff. Failure to provide adequate identification at the door will result in non-admittance. Please remember to bring your valid ID.
Accepted IDs under Pennsylvania State law include: a U.S. Driver's License, a U.S. State ID card, a U.S. Military ID, a U.S. Passport, or a Foreign Government issued Passport. IDs must be valid, up to date, and the original copy. No photos of IDs will be accepted. Foreign IDs and Driver's Licenses, including from Canada and Mexico, are also not accepted.
Smoking and vaping are prohibited on venue premises. Masks are not required but may be worn for your comfort.
Address: 1635, Market St, Back Entrance, Philadelphia, PA 19103