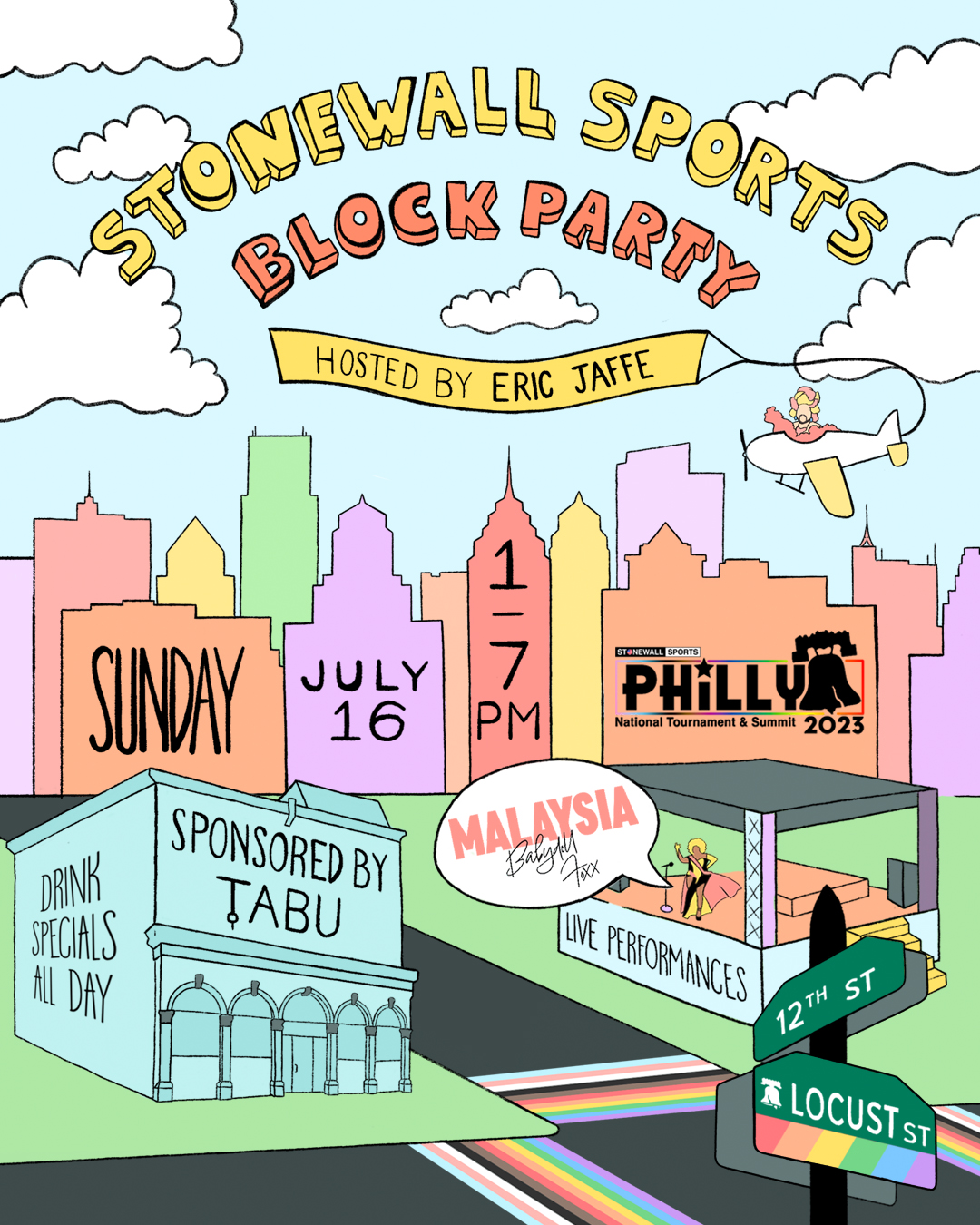 No one knows how to do a block party like Philadelphia!
For our last hurrah of the tournament weekend, Stonewall Sports will take to the streets of the Gayborhood on Sunday, July 16, for an afternoon of music, performance, and community bonding! The Block Party will highlight local Philly performers, cuisine, and bars, with specialty cocktails available from Tito's (the Official Vodka of Stonewall Sports) and Cointreau.
Festivities will take place in the famous and aptly named "Gayborhood '' of Philadelphia (located from Locust Street between 12th and 13th, to12th street between Locust and Spruce, and on Camac Street between Locust and Spruce). For non-Philly attendees, Stonewall Philly will take over the Gayborhood, with easy access and entrance to the local bars and vendors. Tabu, a local spot and favorite establishment within the Philly community, will serve as the official partners of this event. A stage for live entertainment will be set up at 12th and Locust.
The Block Party is open to all registered tournament participants including players registrants, event pass holders (formerly known as Friends of Stonewall), and the general public. The Block Party Block Party begins at 1:00 pm and lasts until 7:00 pm with performances every hour starting at 3:00 pm. The finale & Awards Ceremony will start at 6:00 pm.
This event is open to the public! We recommend that all attendees remember to bring a valid ID.
Accepted IDs under Pennsylvania State law include: a U.S. Driver's License, a U.S. State ID card, a U.S. Military ID, a U.S. Passport, or a Foreign Government issued Passport. IDs must be valid, up to date, and the original copy. No photos of IDs will be accepted. Foreign IDs and Driver's Licenses, including from Canada and Mexico, are not accepted.
Smoking and vaping are prohibited on venue premises.
Address: Gayborhood, Philadelphia
Locust Street between 12th and 13th
12th street between Locust and Spruce
Camac Street between Locust and Spruce